Introduction
VoIP Wholesale is not just a buzzword; it's a transformative force in the telecom industry. By offering efficient, cost-effective communication solutions, it's reshaping how businesses connect globally. This guide aims to provide an in-depth understanding intricacies, benefits, and challenges. People use wholesale voice and wholesale voice interchangeably.
Progressive Telecom LLC, a leader in VoIP and SMS wholesale since 2010, is proud to present this comprehensive guide. Our decade-long journey in the industry equips us with unparalleled insights and expertise. Our numerous accolades and partnerships stand testament to our commitment to excellence in the VoIP domain.
VoIP or Voice Wholesale
It is the backbone of the telecom industry, ensuring seamless voice traffic exchange between carriers and providers. It stands distinct from retail VoIP, which caters to individual users.
VoIP Wholesale vs. Retail VoIP
| Feature | VoIP Wholesale | Retail VoIP |
| --- | --- | --- |
| Target Audience | Businesses & Carriers | Individual Users |
| Volume | High volume of calls | Lower volume |
| Pricing | Competitive rates for bulk | Per-user pricing |
| Service Type | Termination & Carrier services | Direct services |
Key Components of VoIP Wholesale Business
Wholesale Termination: This involves routing voice calls across networks. the providers play a pivotal role as intermediaries, ensuring efficient call termination.

Carrier Services: Carriers lease services from the VoIP-Voice providers. This partnership allows carriers to expand their reach globally without infrastructure overheads.

SIP Trunking: SIP trunking is a technology that enables the transmission of voice calls over the internet. It's a cornerstone of the wholesale business VoIP, ensuring cost-effective communication.


Advantages of VoIP Wholesale
International Calling: Offers competitive rates and ensures global connectivity.

Revenue Potential: Generates revenue for entrepreneurs and telecom companies.

Scalability: Capable of handling increasing traffic without compromising on quality.

Cost-Effective: Provides reduced costs compared to traditional telephony.

Flexibility: Allows easy integration with other systems and software.

Innovation: Grants access to the latest communication technologies.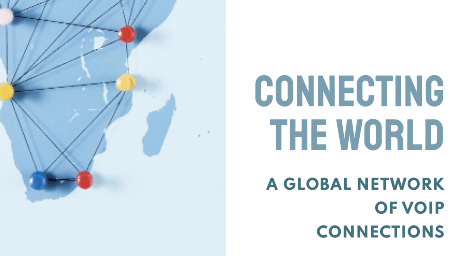 Trustworthiness and Compliance
In the Voice domain, trust is paramount. Providers must adhere to global standards and industry regulations. Data-driven insights and transparent operations further bolster trustworthiness.
Factors to Consider When Choosing a Wholesale Voice/Voip Provider
Price: This is often the first thing businesses look at. Competitive rates and billing flexibility can make a significant difference in your overall costs.

Features: Advanced features and integration options can help businesses offer better services to their clients and stand out in the market.

Reliability: A provider with a high uptime guarantee and redundancy ensures that your services remain uninterrupted.

Support: 24/7 support and technical expertise are crucial. When issues arise, you want to ensure that they are resolved promptly.

Our blog about Choosing the perfect voice carrier will provide you further in depth knowledge about the same.
Real-World Examples and Case Studies
Consider the success story of Wholesale VoIP: A Journey with Progressive Telecom LLC. Such tales offer invaluable insights, showcasing the practical benefits and applications of VoIP Wholesale. Also read How to Choose the Perfect Voice Carrier for Contact Centers for more insights about the co-related industries.
Potential Challenges and Pitfalls
The Wholesale VoIP industry, while promising, is not without its challenges. Fluctuating market dynamics, ensuring consistent call quality, and navigating regulatory landscapes are just a few hurdles businesses might face.

The International Voice Report by TeleGeography provides comprehensive insights into the international voice traffic industry:

International Call Traffic Decline: International call traffic declined by 7% in 2020. This decline continues from 2015, with only a slight increase at the start of the pandemic in 2020.

Impact of COVID-19: Despite a brief increase in international call volumes in early 2020, the pandemic did not have a significant impact on overall call traffic. Over half of the operators saw a jump in call volumes in March, but nearly a third still experienced a drop in traffic compared to the previous year.

Mobile-Originated Share: The mobile-originated share of international traffic dropped for the first time ever, moving from 62.4% in 2019 to 62.0% in 2020.

Wholesale Market Expansion: The expansion of the wholesale market was driven by the increase in traffic to mobile phones in emerging markets. Wholesale carriers terminated more than 70% of international traffic in 2020. Specifically, they terminated over 85% of traffic to Sub-Saharan Africa and South America. In contrast, wholesale carriers terminated only 54% of traffic to western Europe.

Conclusion and FAQs
VoIP Wholesale is undeniably a game-changer in the telecom industry. As we look ahead, its role becomes even more pivotal, promising innovation, growth, and endless possibilities.

Eager to dive into the world of Wholesale VoIP? Reach out to Progressive Telecom LLC for expert consultation, tailored solutions, and a partnership that promises growth.
FAQs:
What is a VoIP wholesaler?
A VoIP wholesaler facilitates voice traffic exchange. Dive deeper with our blog on Wholesale VoIP: A Journey with Progressive Telecom LLC.

How to start a wholesale VoIP business?
Starting a Voice business requires a blend of market understanding, technology, and strategic partnerships. Explore our guide on How to Start a Wholesale VoIP Business for a step-by-step breakdown.

What is wholesale VoIP termination?
Wholesale Voice termination refers to the routing of voice calls from one provider to another. The call is "terminated" when it reaches its intended recipient. Discover the intricacies of VoIP termination.