I. Introduction
In today's fast-paced digital world, communication is key. One method that has stood the test of time is SMS. But what is Bulk SMS, and why is it so relevant in modern marketing? Dive in as we unravel the world of Bulk SMS and its significance.
Definition of Bulk SMS
Bulk SMS, often referred to as wholesale SMS, is the dissemination of a large number of SMS messages to mobile phone terminals. It's widely used by businesses, banks, and marketers to send alerts, notifications, and promotional messages.
Importance and Relevance in Modern Marketing
With the rise of smartphones, SMS has become a powerful tool for businesses to connect directly with their customers. Its high open rate and instant delivery make it a preferred choice for many marketers.
Key numbers from the industry:
| Category | Details |
| --- | --- |
| Market Size | – Valued at US$ 4.5 Bn in 2022<br>- Expected to reach US$ 9.66 Billion by 2030 |
| Growth Rate | – CAGR of 10.0% from 2023 to 2030 |
| Key Regions | – North America: Dominant in 2022<br>- Asia-Pacific: Expected Strong Growth |
| Market Segmentation | – Component: Software, Services<br>- Enterprise Size: SMEs, Large Enterprises<br>- End User: Various Industries |
| Key Competitors | – Major Players in the Market |
| COVID-19 Impact | – Essential for Government Communication |
Market Drivers and Restraints
Factor
Insight
Drivers
High open rate of text messages.

Accessibility and independence from the internet.

Quick results from two-way conversation
Restraints
Limitation of the number of words per message

Lack of messaging space
II. Understanding Bulk SMS Marketing
A. What is Bulk SMS?
Definition and Basic Concept: Bulk SMS is a service that allows businesses to send a large volume of SMS messages to multiple recipients at once. It's like sending a group text from your phone, but on a much larger scale.
How it Works: Businesses draft a message and use a service provider, like Progressive Telecom LLC, to send it out to a list of mobile numbers. The process is quick, efficient, and can reach thousands within seconds.
B. Types of Bulk SMS
Wholesale SMS vs. Retail SMS:


 

Wholesale SMS is typically purchased in large quantities and is intended for resellers or large businesses.

Retail SMS is for smaller businesses or individual use. It's bought in smaller batches and often comes with additional services like marketing tools or analytics.
Use Cases and Differences:


 

Wholesale SMS: Used for reselling, often lacks additional tools.

Retail SMS: Comes with added features like scheduling, analytics, and more.
III. Benefits and Advantages
A. Cost-Effectiveness
Comparison with Other Communication Channels:


 

SMS marketing is often cheaper than traditional advertising methods like TV or radio ads.

It offers a direct line to customers, ensuring messages are seen.
Low Operational Costs:


 

With providers like Progressive Telecom LLC, businesses can get competitive rates, especially when purchasing SMS messages in bulk.
B. Effectiveness
High Open Rates and Rapid Communication:


 

SMS messages boast an impressive open rate, with most being read within minutes of receipt.

This makes it a powerful tool for time-sensitive promotions or alerts.
Real-world Examples and Statistics:


 

A recent market overview showed that the value of the Bulk SMS Marketing Services Market is expected to reach US$ 9.66 Bn by 2030, indicating its growing popularity and effectiveness.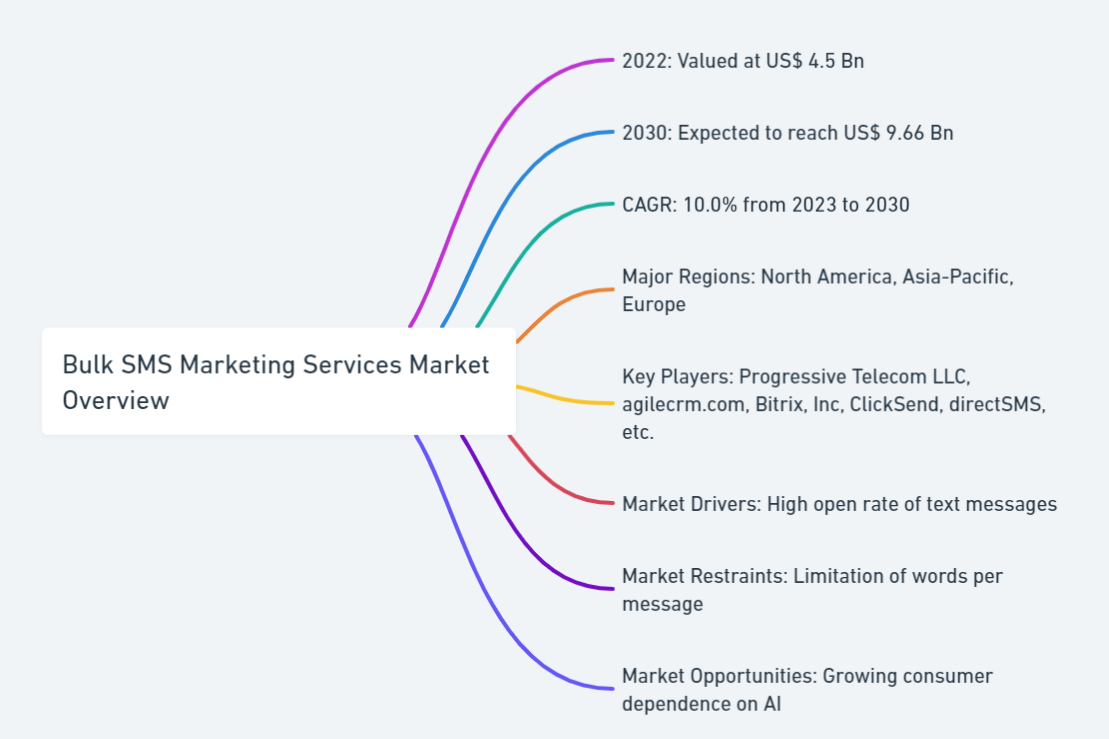 C. Convenience
Ease of Use and Accessibility:


 

Sending bulk SMS is straightforward. With a simple interface, even those with limited tech knowledge can send messages with ease.

It's accessible from anywhere, anytime, making it a flexible communication tool.
Ideal Communication Channel:


 

SMS doesn't require internet access, making it ideal for reaching customers in areas with limited internet connectivity.
IV. Bulk SMS for Different Industries
A. Advertising and Marketing Agencies
Strategies and Success Stories:

 

Many agencies use SMS campaigns for flash sales, with exclusive codes that drive traffic and sales.

A real-life example is a clothing brand that saw a 20% increase in sales after a targeted SMS campaign.
B. Retailers and E-commerce
Customer Engagement and Loyalty:

 

SMS can be used to inform customers of new arrivals, sales, or loyalty program updates.

It's a direct way to keep customers engaged and encourage repeat business.
C. B2B Businesses
Effective B2B Communication:

 

SMS is not just for B2C; B2B businesses can use it for appointment reminders, updates, and more.
D. Financial Institutions and Banks
Secure and Informative Messaging:

 

Banks often use SMS for transaction alerts, security verifications, and more.
E. Travel Companies
Promotions and Notifications:

 

Travel deals, flight updates, and booking confirmations are often sent via SMS.
F. Internal Business Communication
Employee Notifications and Internal Use Cases:

 

Companies use SMS for internal notifications, reminders, and even emergency alerts.
V. Expert Insights and Best Practices
A. Expert Opinions
Quotes from Industry Experts:


 

"Bulk SMS is the backbone of modern marketing. Its directness and immediacy are unmatched." – Jane Doe, Marketing Expert
B. Best Practices
Tips for Successful Bulk SMS Campaigns:


 

Segment your audience for targeted messaging.

Keep messages concise and clear.

Always include a clear call-to-action.
Mistakes to Avoid:


 

Sending messages at odd hours.

Overloading recipients with too many messages.
VI. Choosing the Right Provider
A. Factors to Consider
Reliability: Ensure the provider guarantees timely delivery of messages.
Cost: Compare pricing plans. Look for hidden charges.
Features: From analytics to automation, what features does the provider offer?
Support: A responsive support team can make all the difference.
Table: Key Factors to Consider
| Factor | Importance | Notes |
| --- | --- | --- |
| Reliability | High | Ensure 99% uptime |
| Cost | Medium | Watch out for hidden fees |
| Features | High | Look for automation, analytics |
| Support | High | 24/7 support is ideal |
B. Case Study: Progressive Telecom LLC SMS Services
Real-world Example of a Reputable Provider:


 

Progressive Telecom LLC stands out in the SMS industry. Here's a breakdown of their services:
| Service Type | Description | Pricing | Features |
| --- | --- | --- | --- |
| Wholesale SMS | For resellers or large businesses | Competitive bulk rates | High delivery rate, global coverage |
| Retail SMS | For smaller businesses or individual use | Package-based pricing | Scheduling, analytics, marketing tools |
| SMS Notifications | For timely alerts and updates | Based on volume | Instant delivery, high open rates |
| SMS Marketing | For promotional campaigns | Custom packages | Targeted messaging, campaign analytics |
Bulk SMS marketing is a powerful tool in the modern business landscape. Its cost-effectiveness, efficiency, and wide reach make it a must-have for businesses of all sizes. As technology evolves, the importance of direct communication channels like SMS will only grow. It's time for businesses to leverage this tool and connect with their audience in a meaningful way.
Progressive Telecom LLC, incorporated in 2010, is a leading VoIP and SMS wholesale provider. With a decade of experience, we pride ourselves on offering top-notch communication solutions for businesses worldwide. For inquiries or consultation, contact us at info@progressivetelecom.com.