I. Introduction
In today's digital age, communication has evolved beyond traditional methods. A2P Messaging, or Application-to-Person messaging, has emerged as a pivotal tool for businesses, enabling them to connect directly with their customers. Whether it's for marketing campaigns or customer service notifications, messaging plays a significant role in enhancing customer experience.
Messaging Market Projection: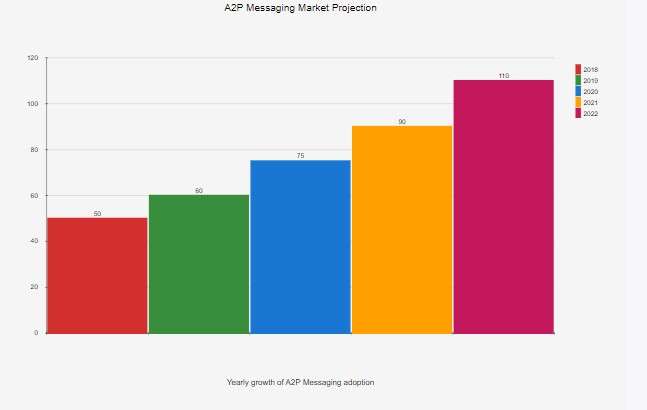 This bar chart showcases the yearly growth of A2P Messaging adoption from 2018 to 2022. As depicted, there's a steady increase in the adoption of messaging, highlighting its growing importance in the communication sector.
II. A2P Messaging
A2P, standing for Application-to-Person, refers to the process where an application sends a message to a user's device. This can range from transactional notifications like bank alerts to promotional messages about sales or new product launches. Industries such as E-commerce, BFSI, Telecom, Healthcare, and Travel heavily rely on A2P messaging to maintain direct communication with their customers.

III. Types of A2P Messages
A. Transactional Messages: These are messages that users receive after specific actions, such as:
Appointment Reminders: A quick SMS about an upcoming doctor's appointment or service schedule.
Bank Alerts: Notifications about transactions, balance updates, or suspicious activity.
Order Confirmation and Shipping Updates: Ensuring customers are informed about their order status.
B. Promotional Messages: These are designed to engage and attract customers:
Discount Codes: Special offers to entice purchases.
Sale Announcements: Informing customers about ongoing or upcoming sales.
New Product Releases: Introducing customers to new products or services.
IV. Emerging Trends in A2P Messaging
With the rise in cyber threats, Two-Factor Authentication (2FA) has become a standard for many online services. messaging plays a crucial role in delivering these one-time passwords or verification codes. Additionally, Anti-Fraud Alerts notify users of any suspicious activities on their accounts. Other alert messages, such as package delivery notifications or emergency weather alerts, ensure users are always informed.
V. A2P vs P2P Messaging
While A2P focuses on messages from applications to individuals, P2P (Person-to-Person) messaging is what we commonly understand as regular texting between two individuals. The volume of A2P messages is typically much higher, and they often involve different routing, aggregators, and filters compared to P2P messages.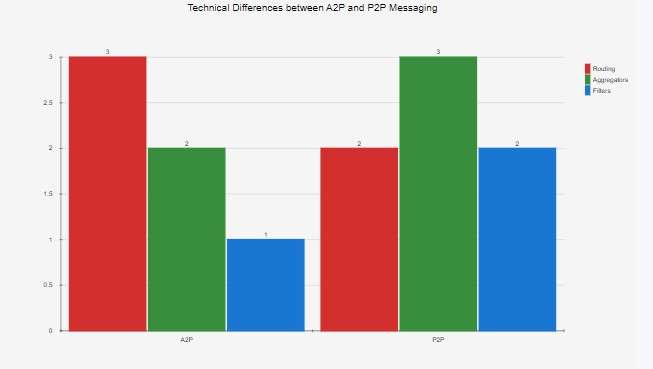 VI. Conclusion
A2P Messaging has revolutionized the way businesses communicate with their customers. With its ability to deliver timely and relevant information, it's no wonder that its adoption is on the rise. As businesses continue to prioritize communication, understanding the intricacies of A2P messaging becomes crucial. Whether it's for marketing, customer service, or security, A2P messaging offers a plethora of opportunities for businesses to connect and engage.
For more insights into the world of telecommunications, explore our blogs like Benefits of Wholesale VoIP Termination, Wholesale VoIP: A Journey with Progressive Telecom LLC, and How to Choose the Right VoIP Wholesale Provider.